Fungal Disease Awareness Week 2023 – Archive
September 18–22, 2023
The Growing Need to Think Fungus
Open Myc – Healthcare-Associated Infections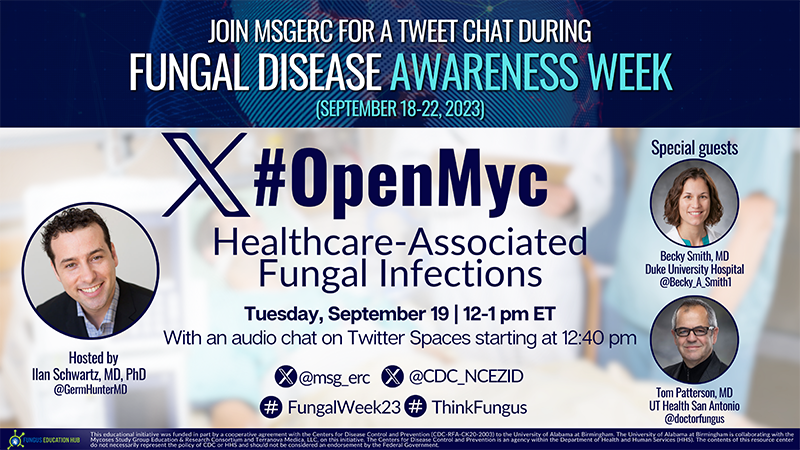 Live Twitter chat and Spaces event discussion on mold outbreaks, Candia auris, and the recent fungal meningitis outbreak.
Follow the conversation on @MSGERC and @CDC_NCEZID and use our hashtag: #fungalweek23.
Tuesday, September 19, 12:00 PM ET
If you missed the discussion, please use the button below to listen to an archived version of the event:
Click here to listen to the archived Spaces Event
Host
Ilan Schwartz, MD, PhD
Associate Professor of Medicine
Division of Infectious Diseases
Duke University School of Medicine
Special Guests
Becky Smith, MD
Associate Professor & Medical Director,
Infection Prevention and Control
Duke University Hospital
Tom Patterson, MD
Professor and Chair,
Division of Infectious Diseases
UT Health San Antonio
Clinician Outreach and Communication Activity (COCA) – Algorithms for Diagnosing the Endemic Mycoses Blastomycosis, Coccidioidomycosis, and Histoplasmosis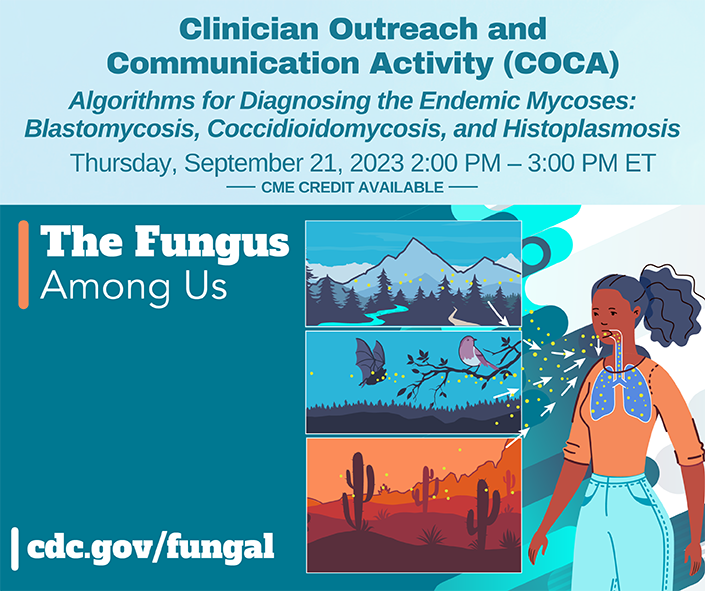 The endemic mycoses blastomycosis, coccidioidomycosis (Valley fever), and histoplasmosis are environmental fungal diseases that are frequently misdiagnosed. Early diagnosis of these fungal diseases, mainly in primary and urgent care settings, can prevent severe and disseminated disease.
During this COCA Call, participants will learn about these infections' epidemiology and diagnostic challenges. Participants will also be introduced to new clinical diagnostic algorithms to address these challenges and improve the timely diagnosis of blastomycosis, coccidioidomycosis, and histoplasmosis.
Presenters
Mitsuru Toda, MS, PhD
Epidemiologist, Outbreaks & Endemics Unit Lead, Mycotic Diseases Branch
Division of Foodborne, Waterborne, and Environmental Diseases
National Center for Emerging and Zoonotic Infectious Diseases
Centers for Disease Control and Prevention
Samantha Williams, MPH
Epidemiologist, Mycotic Diseases Branch
Division of Foodborne, Waterborne, and Environmental Diseases
National Center for Emerging and Zoonotic Infectious Diseases
Centers for Disease Control and Prevention
Dallas Smith, PharmD, MAS
LT, U.S. Public Health Service
Epidemiologist, Mycotic Diseases Branch
Division of Foodborne, Waterborne, and Environmental Diseases
National Center for Emerging and Zoonotic Infectious Diseases
Centers for Disease Control and Prevention
Learn More